5 of our favourite printers
A selection of the best card printers on the market, according to ID specialist Databac.
Here, we have gathered some of our favourite printers in a number of categories: retransfer, direct-to-card, inkjet and rewritable. This is just a small selection of what we offer and we have many other printers that each have their own strengths and characteristics.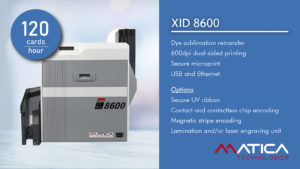 Matica XID 8600 – retransfer printer
Why we like it – It may not be the most economical on the market, but it is extremely reliable and the quality is always good. Its microprint capability makes it perfect for printing secure RFID access cards.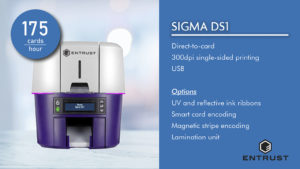 Entrust Sigma DS1 – direct-to-card printer
Why we like it – This deceptively simple printer integrates some clever security features. Besides security printing, no data is stored on the printer, while the ribbon can be made illegible to prevent copying after use. Plus, you can request supplies and printer assistance via the mobile app.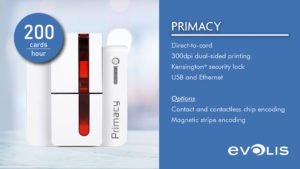 Evolis Primacy – direct-to-card printer
Why we like it – This is one of the best entry-level direct-to-card printers, combining ease of use with an elegant, clean design. We also like Evolis' eco-design policy, which prioritises the use of recycled materials and reduces energy consumption.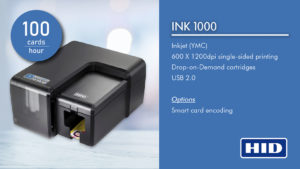 HID Fargo Ink1000 – inkjet card printer
Why we like it – This is a rare eco-innovation in card printing, that drastically brings down the cost of basic, low-volume card printing. Expect inkjet to become a standard option in the near future.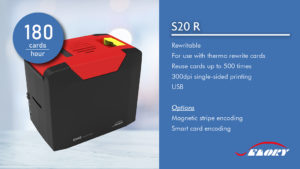 Seaory S20 R – rewritable card printer
Why we like it – Rewritable printers have been around for a while now, but this one works particularly well. We tested the Seaory with our Data ReWrite™ cards and found that it erases previous information perfectly, so each card looks new every time.
Did you know? We offer a three-year warranty on all Matica, Entrust and Evolis card printers (conditions apply). We also offer training, installation and tech support on all the models we offer. 
Need help choosing a printer? Read this article for some expert advice.
Databac is an official distributor and reseller for the leading card printer brands (Matica, Entrust Datacard, HID Fargo, Seaory, Evolis, Magicard, IDP Smart, Zebra).
Click here to find out more or call us on 020 8546 9826.