DATABAC – HOTELS & CRUISE-LINES
Complete identification solutions for hotels an cruise-lines
Identifying visitors, staff and guests at your hotel or cruise ship is easy with Databac's identification solutions. From hotel key cards to complete access control systems, we help you manage room access, loyalty programmes, employee time recording, vending systems and, of course, identification of both staff and your customers. Our verification solutions can ID your guests as they board and leave the ship. As an added value, we offer key-fobs, wristbands, tags and labels with and without technology and also ID accessories such as lanyards, card holders, pouches, clips and badge-reels.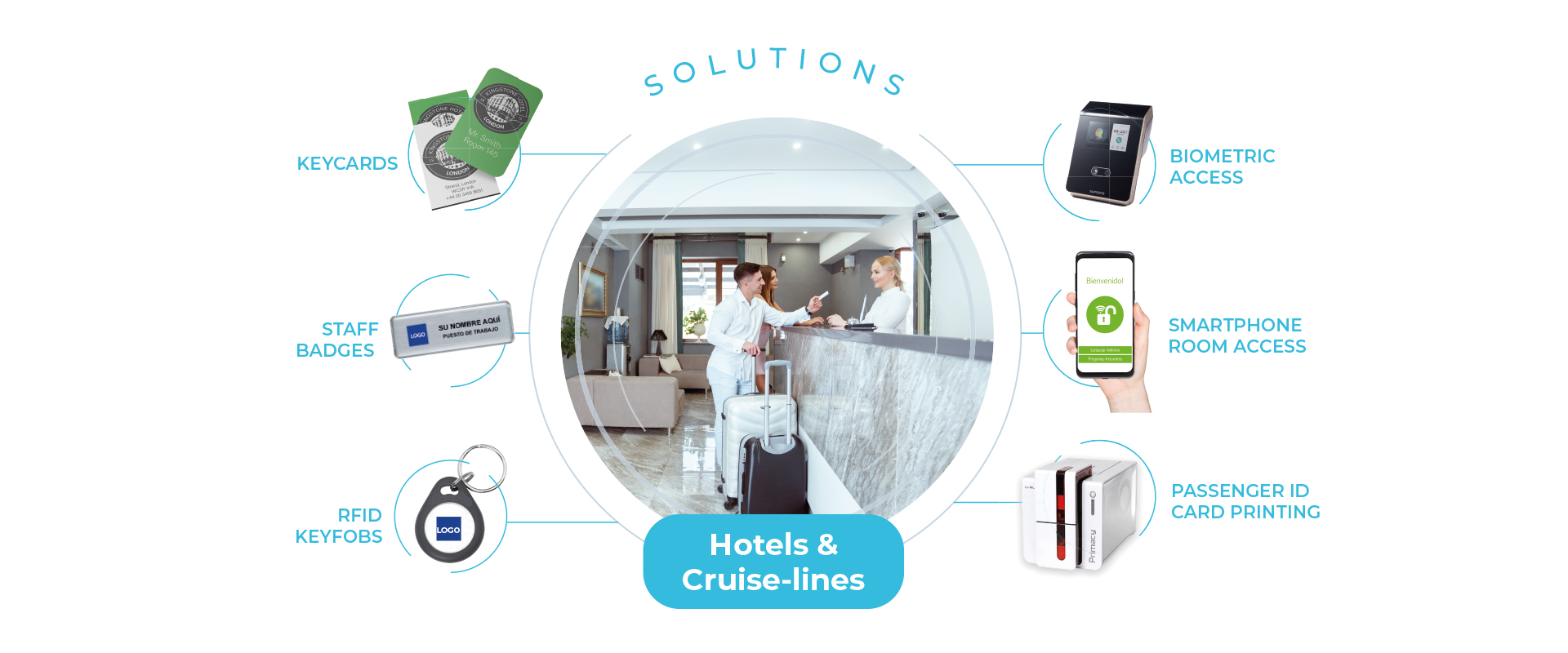 Key cards and wristbands that open doors
Why not source your key cards directly from the card manufacturer? Whatever door lock system you use, we can manufacture and supply cards that work with it, such as magnetic stripe, chip and contactless, including VingCard, Kaba and Salto.
Your cards can be provided preprinted with your hotel or company logo, and a choice of features that add value, like custom holograms and metallised print.
For your sauna, gymnasium and swimming pool – we offer a range of plain and RFID wristbands that means that your guests don't need to worry about carrying around their keycard. These are made out of skin-friendly silicon and can be printed with your hotel or sponsor's logo.
Cards that 'talk' to guests
Your key cards can be used to strengthen the relationship with your customers. Our rewritable key cards enable you to personalise cards for each guest. You can print, erase and reprint each card up to 500 times. They could be used for loyalty, too. You could update loyalty points or print personalised special offers each time a member checks in or out or uses the card at your shops, restaurants or spa.
We even have a complete solution that enables you to set up your own card-based loyalty programme simply and effectively.
Special access
For staff, we offer magstripe, smart and contactless cards for time and attendance, access control and cashless vending. We deliver them pre-printed with your logo to be personalised on your premises – or our bureau service will be pleased to take care of personalisation.
Our biometric ID systems deploy a variety of technologies for access control, time & attendance and building automation – ideal for secure areas, as well as VIP access to in-house / on-board casinos and health clubs.  We also offer a range of RFID locker systems that are as flexible as you need. You can buy as many as you need or integrate our locks into exiting traditional key systems. Ideal for both guests and staff for keeping safe personal belongings.
 Branded accessories
Staff cards can be worn with lanyards pre-printed with your hotel / cruise line logo. We have a host of accessories suitable for all types of venues, including waterproof wristbands; lanyards and even badge-reels.