Key cards for hotels in York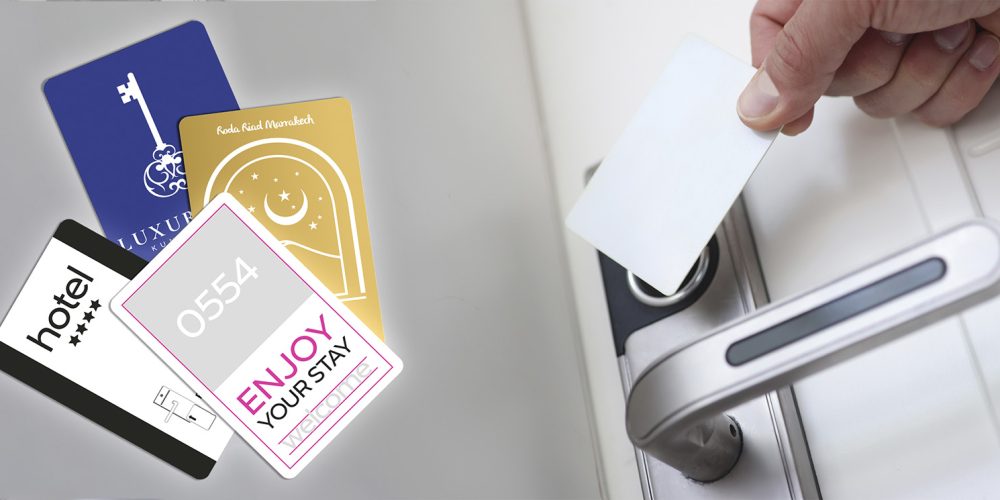 At Databac, we strive to ensure that your guests enjoy a reliable and secure visitor experience.
We offer ID and guest key cards for the hotel industry using the latest RFID (radio frequency) technology. RFID key cards are among the most secure credentials on the market so if you want a reliable, cost-effective, attractive access card solution that can be customised to your specific requirements, this is an ideal solution.
As specialists in card technologies, we can provide technical support and advice, along with the highest-quality products matched to your needs.

How does RFID technology work?
Key cards with RFID technology communicate with a card reader on the door using radio wave signals. When the key card is held close, the chip ID is authenticated by the reader. If the encrypted number is correct, the door unlocks.
Databac hotel key cards are compatible with a wide range of locking systems, including VingCard, Assa Abloy, Salto y Gantner.
It is a practical, inclusive system and perfect for guests with compromised motor skills allowing them to easily enter their room.
 Quality cards for hotels and resorts
In the hotel sector, key cards are subjected to continuous wear and must be able to withstand repeated usage, despite being contactless. Our keys are designed to be very durable, even with frequent handling and aggressive treatment. What's more, they are scratch-resistant and waterproof – ideal for cards taken to the poolside.
With hygiene being a priority in hotel environments, the cards can be cleaned with disinfectant products without being damaged.
If you have any questions about our access cards or how they can be integrated with your hotel's security system you can send us an email to enquiries@databac.com or fill in the form below and we will contact you.